FIREWIRE/i.LINK CABLES WITH LEDS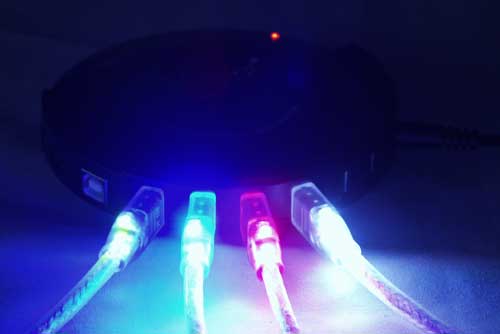 FireWire gets the Light treatment with QVS®'s FireWire Translucent cables with LEDs! These cables are like their USB with LEDs counterpart - definitely a colorful way to know if your connection is right on track. Built-in LEDs in both ends of the cable light up to indicate that devices are properly linked and working.
Again, convenient to use with PC-to-hub connections and the different colors allow for color-coding various devices. Hook up FireWire peripherals like hubs, digital cameras, storage devices and the cable ends will light up when a functioning device is connected to the PC or FireWire hub.
All QVS® FireWire with LED cables are IEEE1394 compliant, have silver braid shielding with a translucent jacket. These are 6Pin (male) to 6Pin (male) cables and supports 400Mbs speed. Available with green, blue, red, or white LED lights.

CONTINUOUS CHANGING-COLOR LED CABLES
FireWire/i.Link 6Pin to 6Pin Translucent Cable with Multi-color LEDs
This cable connects any computer with a 6pin port to any Firewire device with a 6pin port like printers, scanners and storage peripherals. It has built-in LEDs that illuminate your connection, change to 6 different colors, lets you know if the FireWire port is working properly, and helps locate cable in dark areas. This premium lighted cable has silver braid shielding with translucent jacket, is IEEE1394a compliant and tested to support 400Mbps and compatible with all i.Link devices. (Connectors: 6Pin Male to Male)


Description

Part Number

UPC Code

Status

6ft, Changing Multi-Color

037229139280

REG SKU

FireWire/i.Link 6Pin to 4Pin A/V Translucent Cable with Multi-color LEDs
This cable connects any computer with a 6pin port to any Firewire device with a 4pin port such as digital video camcorders. It has built-in LEDs that illuminate your connection, changes to 6 different colors, lets you know if the FireWire port is working properly, and helps locate cable in dark areas. This premium lighted cable has silver braid shielding with translucent jacket, is IEEE1394 compliant and tested to support 400Mbps. (Connectors: 6Pin Male to 4Pin Male)


Description

Part Number

UPC Code

Status

6ft, Changing Multi-Color

037229139297

REG SKU
FIREWIRE 400 CABLES WITH LEDS
FireWire/i.Link 6Pin to 6Pin Translucent Cable with LEDs
This cable connects any computer with a 6pin port to any Firewire device with a 6pin port like printers, scanners and storage peripherals. Built-in blue LEDs illuminate your connection, lets you know if the FireWire port is working properly, color-code your device, and helps locate cable in dark areas. This premium lighted cable has silver braid shielding with translucent jacket, is IEEE1394a compliant and tested to support 400Mbps and compatible with all i.Link devices. (Connectors: 6Pin Male to Male)


Description

Part Number

UPC Code

Status

3ft, Blue

037229139303

REG SKU

3ft, Red

037229139310

REG SKU

3ft, White

037229139327

REG SKU

6ft, Green

037229139822

REG SKU

6ft, Orange

037229139334

REG SKU

6ft, Purple

037229139341

REG SKU

6ft, Red

037229139839

REG SKU

6ft, White

037229139846

LTD INV

10ft, Blue

037229139938

REG SKU

10ft, Green

037229139358

REG SKU

10ft, Red

037229139945

REG SKU

10ft, White

037229139952

REG SKU

15ft, Blue

037229139969

REG SKU

15ft, Green

037229139365

REG SKU

15ft, Red

037229139976

REG SKU

15ft, White

037229139983

REG SKU
FireWire/i.Link 6Pin to 4Pin A/V Translucent Cable with LEDs
This cable connects any computer with a 6pin port to any Firewire device with a 4pin port such as digital video camcorders. Built-in green LEDs illuminate your connection, lets you know if the FireWire port is working properly, and helps locate cable in dark areas. This premium lighted cable has silver braid shielding with translucent jacket, is IEEE1394 compliant and tested to support 400Mbps. (Connectors: 6Pin Male to 4Pin Male)


Description

Part Number

UPC Code

Status

6ft, Green

037229139860

REG SKU

6ft, Orange

037229139389

REG SKU

6ft, Purple

037229139396

REG SKU

6ft, Red

037229139877

REG SKU

6ft, White

037229139884

REG SKU

10ft, Blue

037229139204

REG SKU

10ft, Green

037229139211

REG SKU

10ft, Red

037229139228

REG SKU

10ft, White

037229139235

REG SKU

15ft, Blue

037229139242

REG SKU

15ft, Green

037229139259

REG SKU

15ft, Red

037229139266

REG SKU

15ft, White

037229139273

REG SKU