USB 2.0 CABLES & EXTENSIONS WITH LEDS
Light up your USB connections with QVS®'s latest USB 2.0 Translucent cables with LED!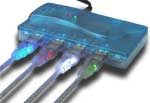 A colorful way to know if your connection is right on track – the built-in LEDs in both ends of the this USB cable light up to indicate that devices are properly linked and working.

The USB cables with LED are convenient to use with PC-to-hub connections and different colors allow for color-coding your devices. Hook up USB hubs or peripherals like printers, scanners and storage devices and the cable ends will light up when a functioning device is connected to the PC or USB hub.


All QVS® USB with LED cables are 2.0 and have silver braid shielding with a translucent jacket.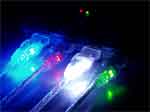 These are type "A" (male) to type "B" (male) cables and support full USB 2.0 speed up to 480Mbps. Available with blue, red, white, or green LED lights.
CONTINUOUS CHANGING-COLOR LED CABLES
USB 2.0 480Mbps Type A Male to B Male Translucent Cable with Multi-color LEDs
Connects your computer to any USB device with Type B female port. This lighted cable allows you to connect hubs and peripherals such as printers, scanners, and storage drives. It has built-in multi-color LEDs that change to at least 3 different colors, lets you know if the USB port is working properly, and helps locate cable in dark areas. It has silver braid shielding with translucent jacket and supports USB speeds up to 480Mbps. (Connectors: Type A Male to B Male)


Description

Part Number

UPC Code

Status

6ft, Changing Multi-Color

037229229905

REG SKU
CABLES WITH LEDS
USB 2.0 480Mbps Type A Male to B Male Translucent Cable with LEDs
Connects your computer to any USB device with Type B female port. This lighted cable allows you to connect hubs and peripherals such as printers, scanners, and storage drives. Built-in blue LEDs illuminate your connection, lets you know if the USB port is working properly, and helps locate cable in dark areas. It has silver braid shielding with translucent jacket and supports USB speeds up to 480Mbps. (Connectors: Type A Male to B Male)


Description

Part Number

UPC Code

Status

3ft, Blue

037229229608

REG SKU

3ft, Red

037229229615

REG SKU

3ft, White

037229229622

REG SKU

6ft, Blue

037229229455

REG SKU

6ft, Green

037229229448

REG SKU

6ft, Orange

037229229837

REG SKU

6ft, Purple

037229229813

REG SKU

6ft, Red

037229229424

REG SKU

6ft, White

037229229417

REG SKU

10ft, Green

037229229844

REG SKU

10ft, Red

037229229646

REG SKU

10ft, White

037229229653

REG SKU
EXTENSION CABLES WITH LEDS
USB Power Charger & Sync Lighted Extension Cable for Smartphone & Tablets
Extends your existing USB dock sync & charger cable for iPod, iPhone and iPad/2/3. It is specifically designed to handle higher voltage required in charging up to 2.1Amp. Must be used with your existing Dock/Sync cable. Built-in white LEDs illuminate your connection, lets you know if the USB port is working properly, and helps locate cable in dark areas. It has silver braid shielding with translucent jacket and supports USB speeds up to 480Mbps. (Connectors: Type A Male to Female)


Description

Part Number

UPC Code

Status

6ft, Red, 2.1Amp

037229229707

REG SKU

6ft, White, 2.1Amp

037229229714

REG SKU

10ft, Red, 2.1Amp

037229229738

REG SKU

10ft, White, 2.1Amp

037229229745

REG SKU